Once you've signed up for a TrackYourHours account, there are a few steps to take before you can begin logging hours.
In this guide, we'll cover:
---
Entering your School & Status information
To begin logging your hours, you'll first enter in your School & Status information.
To do this: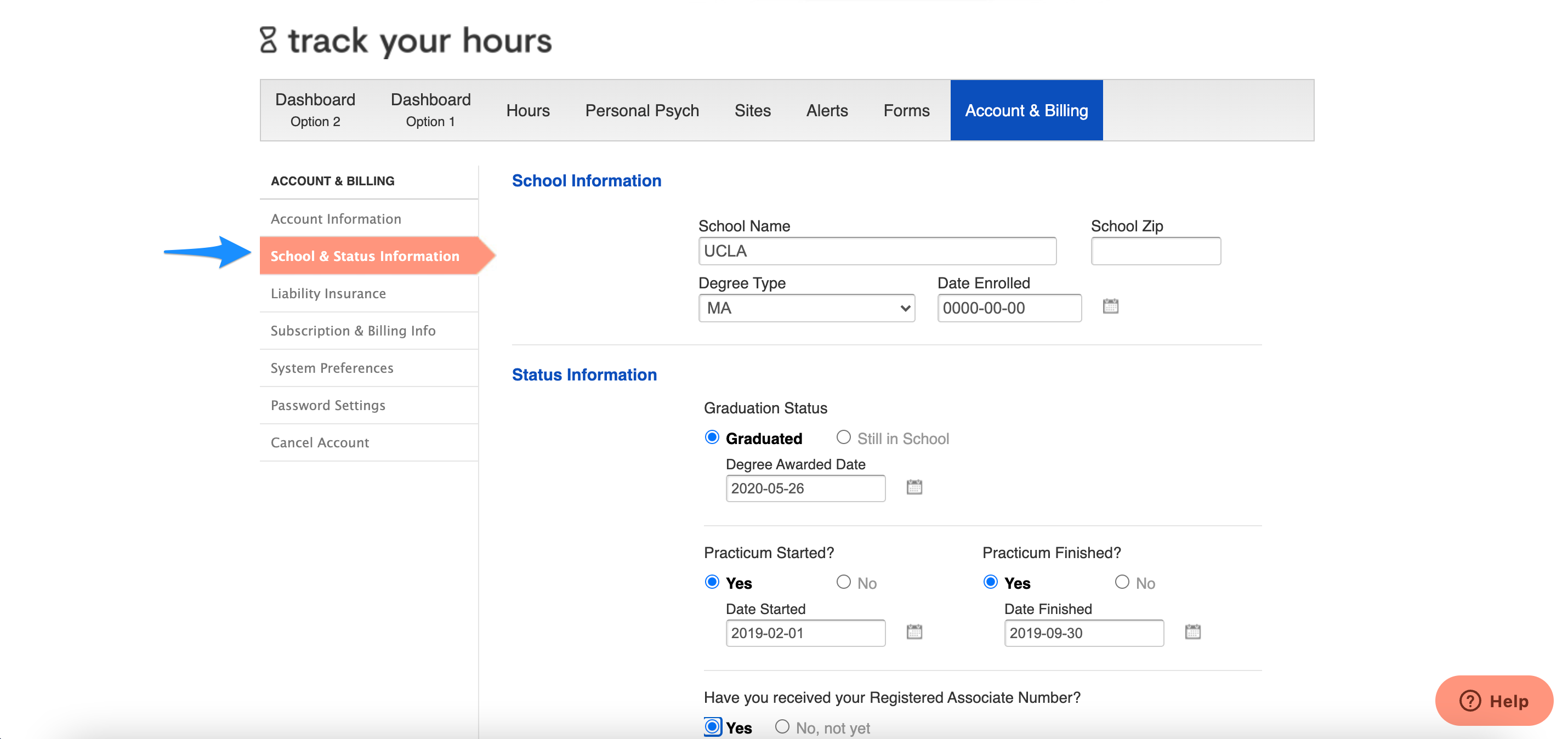 Note: It's important to keep this information up-to-date because it allows Track Your Hours to accurately report your hours by status, and will populate your experience verification and weekly log forms.
After entering your information, click

Save Changes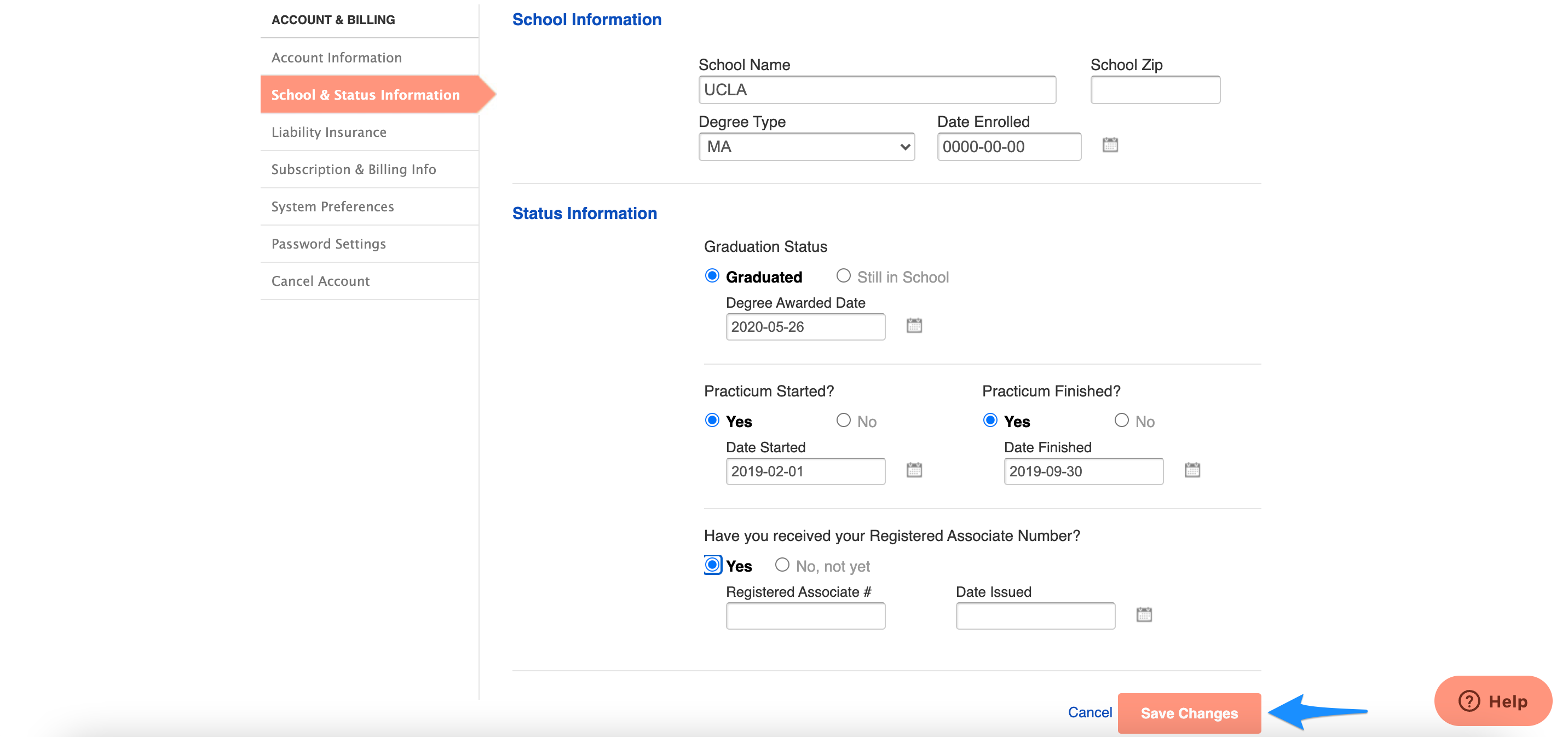 Note: For CA LMFTs, practicum is a pre-degree status. Your practicum end date must be on or before your graduation date. Even if you remain at the same site post-degree, you are no longer considered a trainee-in-practicum once you graduate.
---
Creating a Site & Supervisor
Next, you'll want to add a Site and Supervisor. To add a site:
Navigate to the

Sites

tab

Click

Add a Site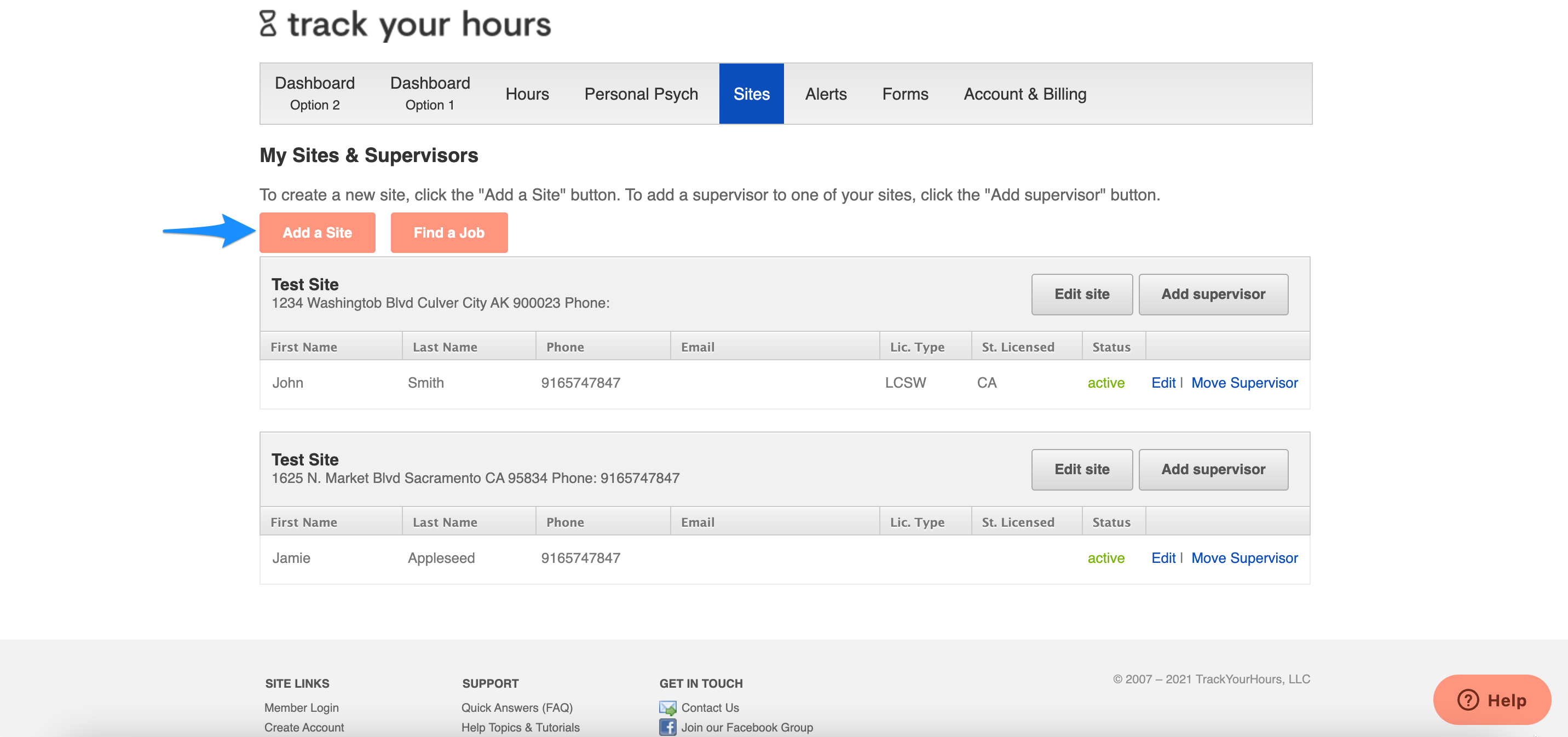 Enter the information of your site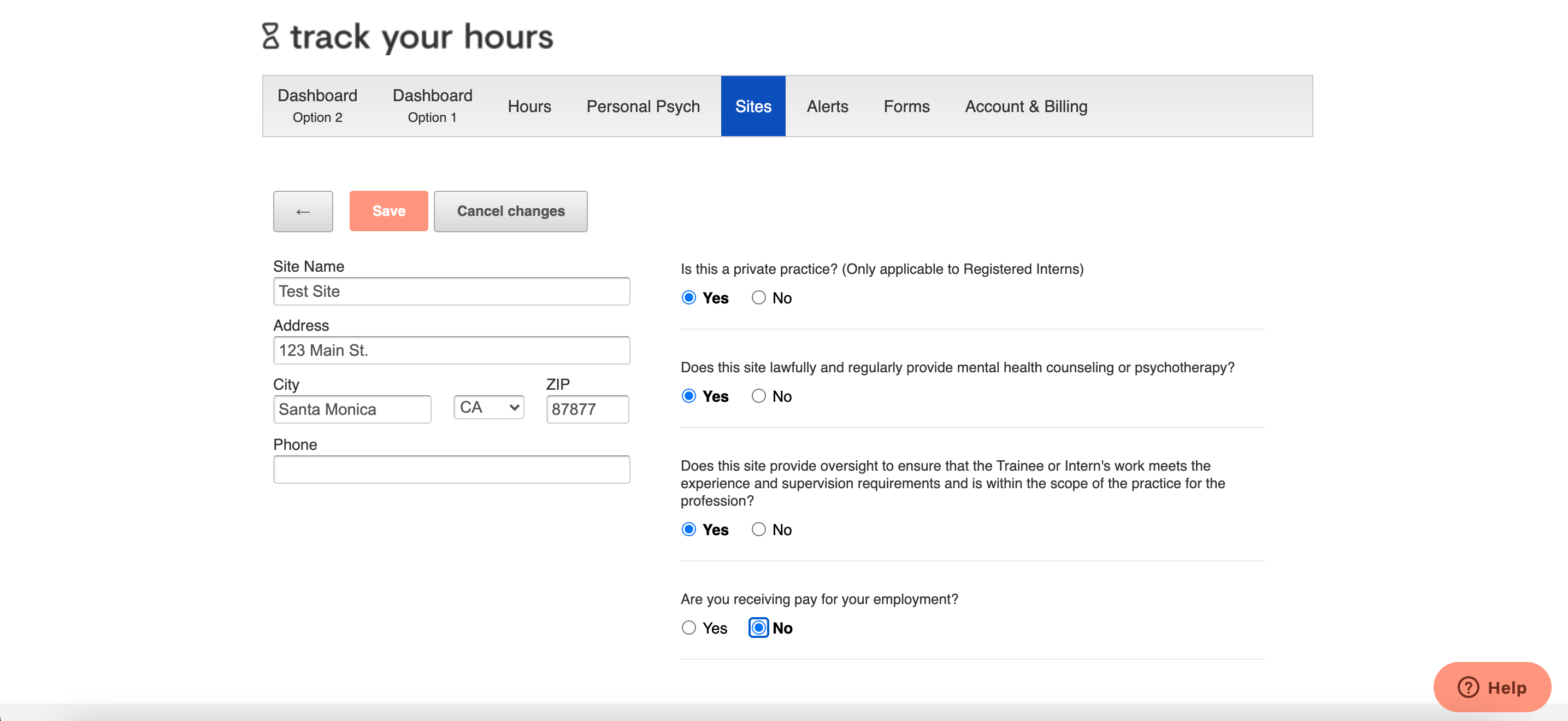 To add a supervisor:
Click

Add supervisor

on the site you just created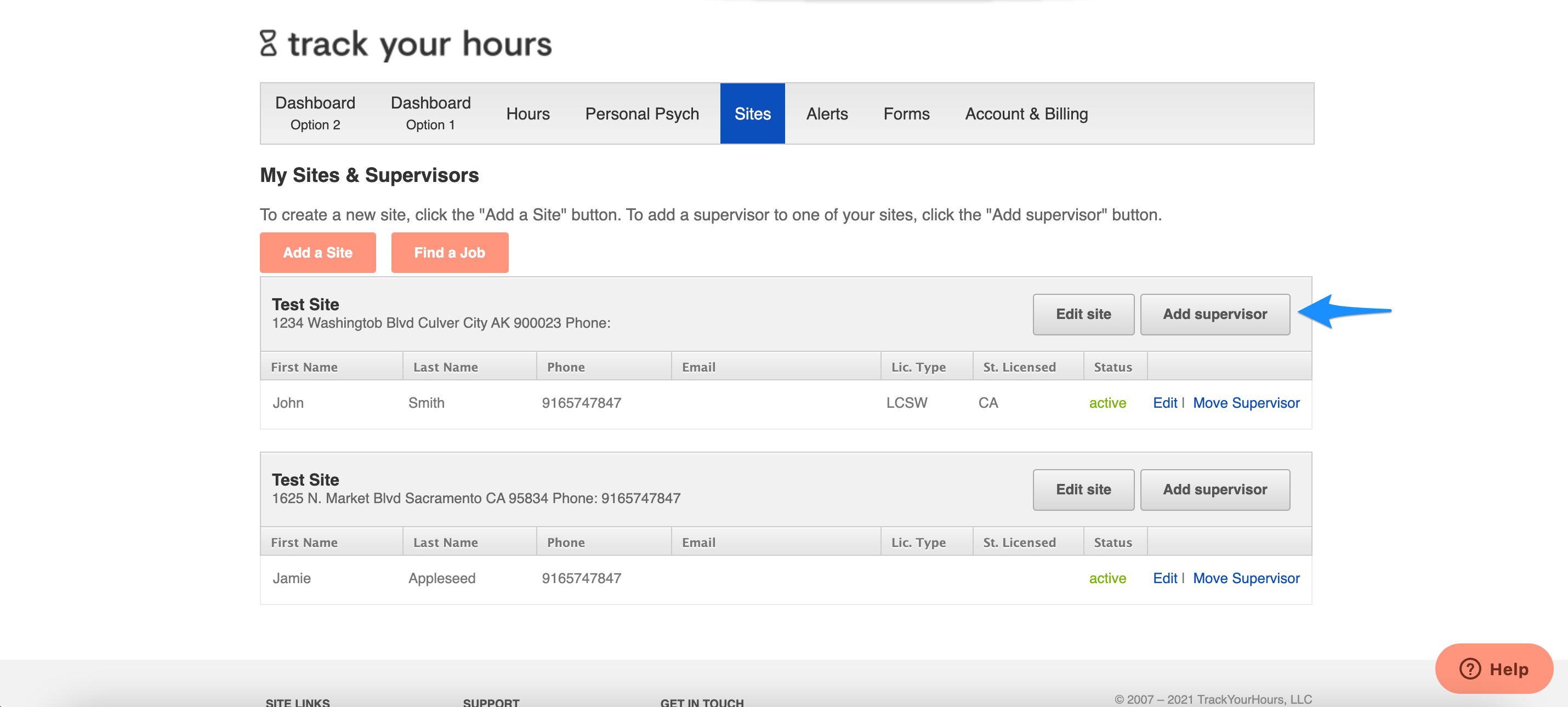 Enter the name, address, and license information of your supervisor.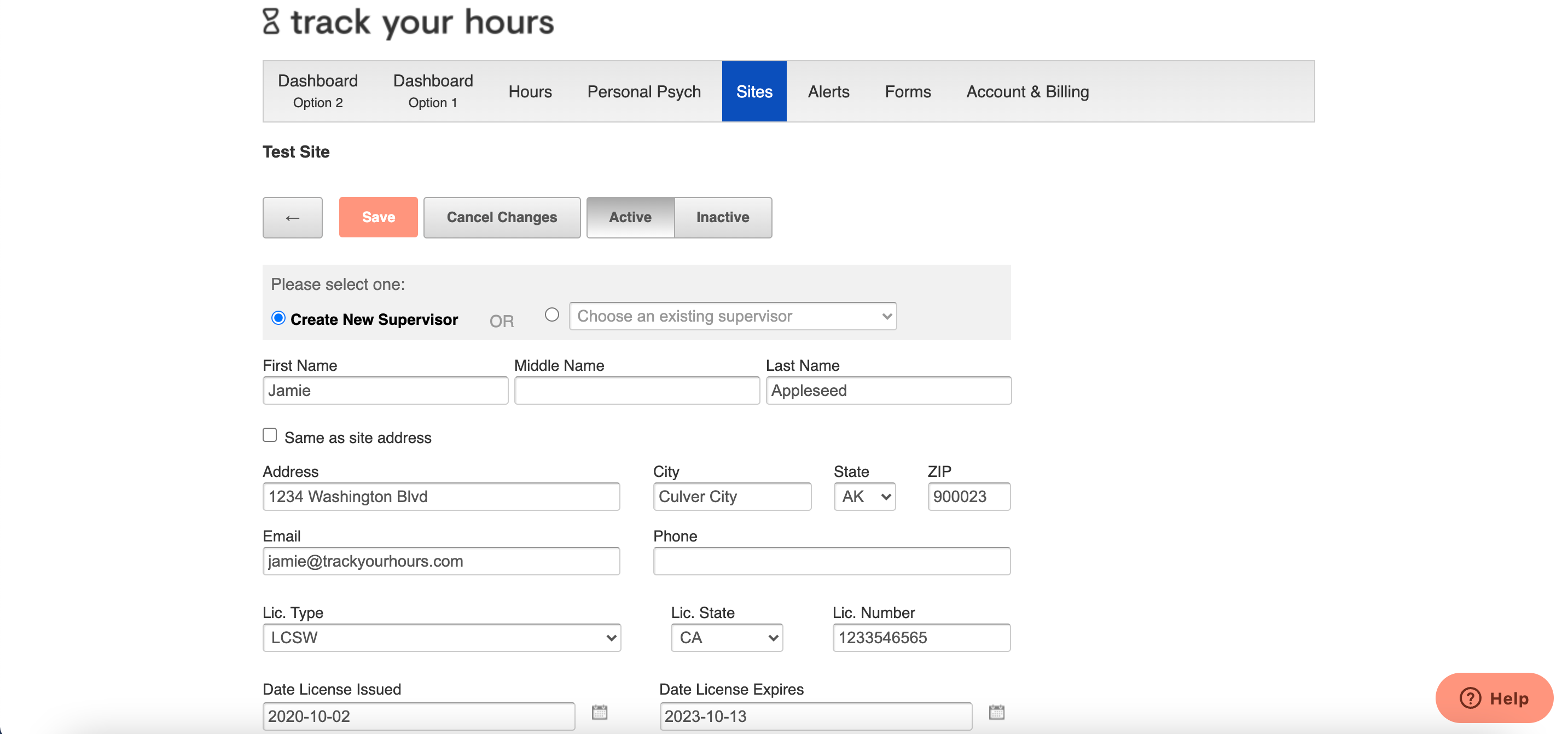 ---
Logging Hours
Once you've created a Site and added a Supervisor, you can begin logging your hours. To log your hours:
Navigate to the

Hours

tab

Select a Site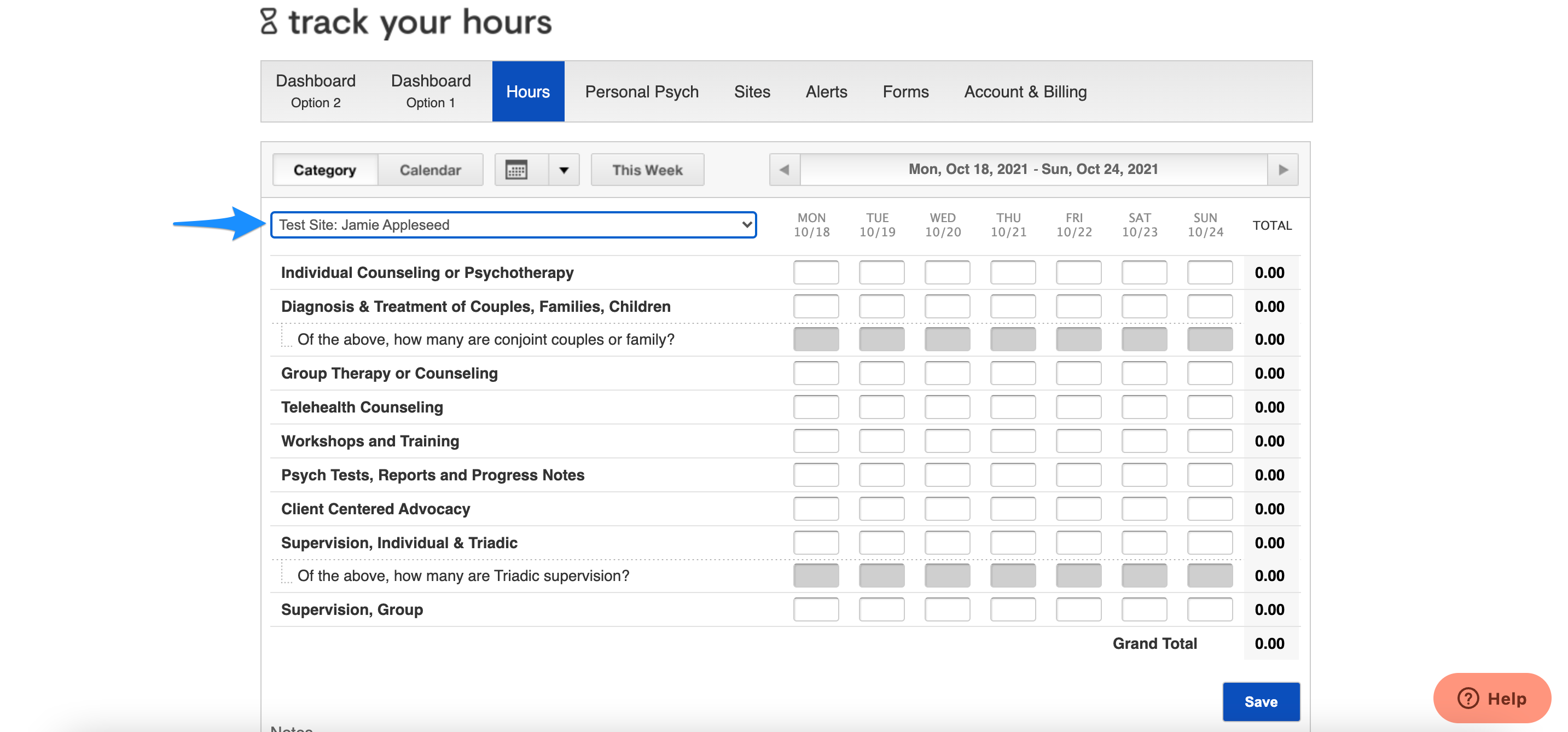 Enter your hours for each day
Note: If you'd like to add hours weekly instead of daily, see Logging hours daily and weekly.
To edit or delete hours you've already entered, remove the number and click Save.
When entering hours, you can enter increments of time, such that:
Fifteen minutes = .25

Thirty minutes = .5

Forty-five minutes = .75

One hour = 1

One-and-a-half hours = 1.5
Note: For New York LCSWs, client contact hours consider 45 minutes = 1 hour. If you are a New York LCSW, you should log 45 minutes of client contact as 1.0 in Track Your Hours to report your time correctly.
---
FAQs
---
How do I view my progress?
Once you've entered hours into your account, you can begin tracking your progress on your Dashboard. This is where you'll find a summary of your hours by category.
---
How do I generate a form?
To generate a form in your account:
Navigate to the Forms tab

Select the type of form or report you'd like to generate

Select which site and supervisor you'd like to generate the form for

Leave this field empty if you're looking to generate a form that includes all sites

Select the date range you'd like to generate the form for

Leave this field empty if you're looking to generate a form that includes all logged hours

Click Generate and Download at the bottom of the page

Once you see the Your document is ready! message, click Download
---
What's the difference between Recorded and Valid Hours?
When viewing the hours logged in your account, you'll see both Recorded and Valid totals. Because licensure regulations are complex and we want to provide you with a calculation of the number of hours you will be able to claim when you submit your application, we provide you with valid hours. For more information, see Understanding Recorded and Valid hours.